[et_pb_section fb_built="1″ admin_label="section" _builder_version="3.0.47″][et_pb_row admin_label="row" _builder_version="3.0.48″ background_size="initial" background_position="top_left" background_repeat="repeat"][et_pb_column type="4_4″ _builder_version="3.0.47″ parallax="off" parallax_method="on"][et_pb_text admin_label="Text" _builder_version="3.18.4″ background_size="initial" background_position="top_left" background_repeat="repeat"]
1. The KrOn Max Pack collection
– Download KrOn 
– Download KrOn Max Pack (the whole collection)
KrOn, DSP and CV sequencer for Eurorack, Scope, and two modes for the Korg MS20 family.
KrOn is calibrated for Expert Sleeper's ES 3 and ES8. Other brands may work, or may not. Often transposition of the receiving oscillator is the solution (master tune of the synth/VCO, or with KrOn master outputs Gain or Tuning).
JunZ, mono synth, Fat oscillators and filters. Can be modulated by KrOn, by audio signals, or by hardware modulators. Comes free with KrOn
Volcano, its simplicity makes it the fatest and most analog sound of the whole collection.
Can be modulated by KrOn, by audio signals, or by hardware modulators. Comes free with KrOn
Mini-FMZ is a great FM Synth for bass and melodic motives. It is one Operator from FMZ, and it Comes free with KrOn.

Magma is a stereo or dual mono synth with extensive stereo filters and oscillators of character.  More info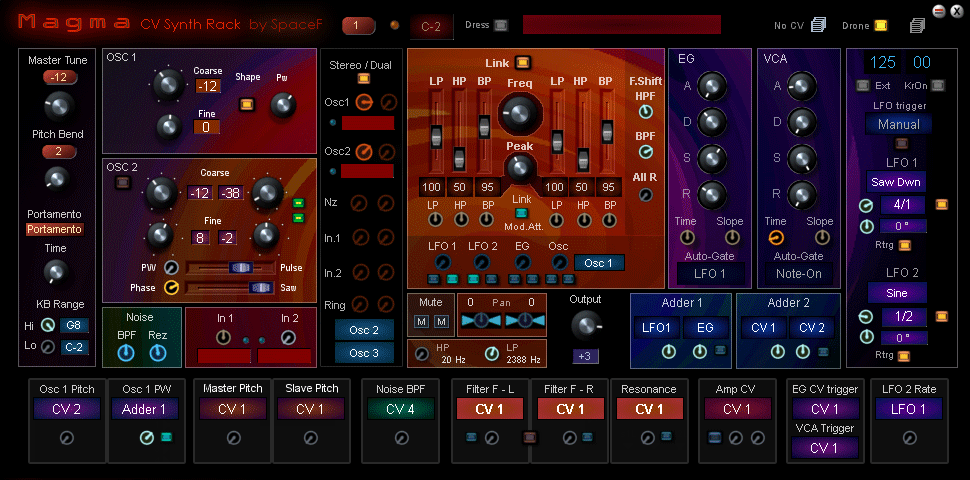 Spirit Scope FM and VA into 3 voice stereo filters, to be used as a rythmic machine with typical scope-digital flavor.
21 parameters to control including levels of all oscillators and filters. More info
FMZ is a very advanced FM synth that can be used as a multi-synth setup. More info.

You can also use the free Logiquencer to generate triggers and filter modulations; Download LogiQuencer from Sonic Core

→Download 3 Modular patches for KrOn

2. KrOn updates
November 17th
– Added FMZ to KrOn Max Pack
– Added FMZ to "Spirit and FMZ" product page.
– Added "Mini-FMZ" to Kron
– Added sync/unsync function in the FM Operator of Spirit.
November 6th: KrOn final optimizations.
November 1st 2018: various workflow optimization
  An "Ext" option allows to sync KrOn to external hardware that send midi clock.
  The output configuration is now always visible and useable (meny below the "custom" button). No need to switch to "custom" page to see whether you are in line, column or other setup. This minimizes a lot the need to switch to custom page to see what is the output set-up.
  corrected the little bug that made divider go to 2 when switching between "divide" and "multiply".
Volcano gets a  warmer skin:
..

MS 20 duophonic setup (control through pitch mode, and Osc 2 (duophonic).
KrOn is also directly compatible with the ESP of the MS20, without the need of a ADAT to CV converter.
4. Audio and Videos
Some audio contain small clicks and cracks which are due to my aging/dying PC PSU. Sorry about that.
Tuning together Eurorack, Synths and Scope synths is not a problem anymore:
Midi to CV with Pitch bend: 


KrOn controlling 3 CV synths and hardware equipment (through ADAT output):

[/et_pb_text][/et_pb_column][/et_pb_row][/et_pb_section]